Home
›
Products
›
Lldp-membership-cocktail-2-mar-2023
Membership cocktail (2 Mar 2023)
$250.00
HKD


Approx $31.97

USD
Description: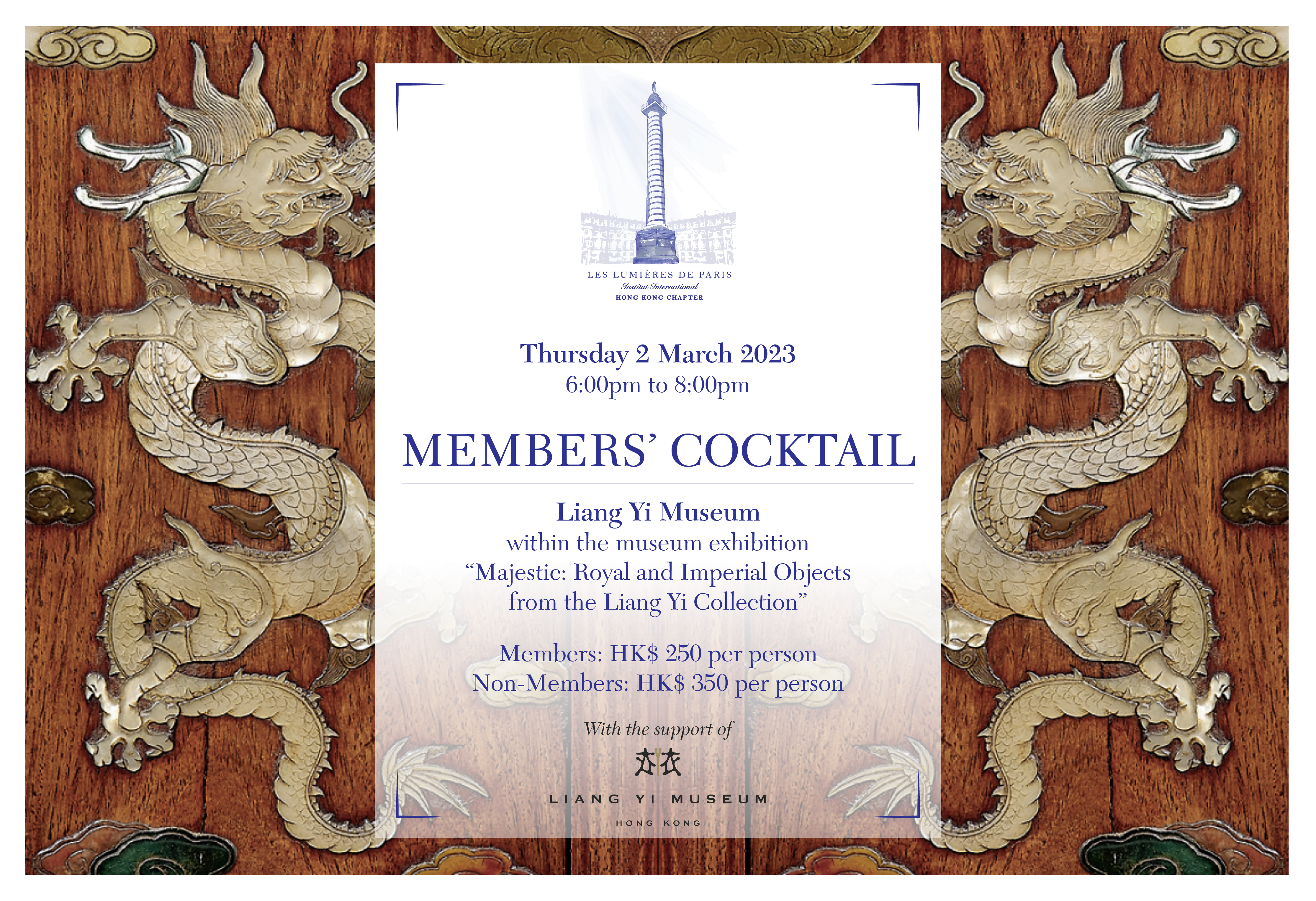 Dear Members and Friends,
Membership Cocktail and
private viewing of exhibition
'Majestic: Royal and Imperial Objects from the Liang Yi Collection'
Our institute is very happy to invite you to our first membership cocktail in 2023 at LiangYi Museum on 2 March at 6 – 8:00 p.m. Members and friends will be able to enjoy mingling with each other over a rich cultural evening filled with nice selected wines and food. The evening will include a private viewing of the wonderful exhibition 'Majestic: Royal and Imperial Objects from the Liang Yi Collection' just open in Spring of this new year. Our members will be welcomed by our President Wendy Siu and the Gallery owner Lynn Fung.
Founded in 2014, Liang Yi Museum has established itself as one of the world's leading private museums in less than a decade, with an outstanding reputation in the fields of craftsmanship, design and cultural heritage. While sharing the same spirit in the promotion of cultural heritage and know-how, Les Lumières de Paris Hong Kong Chapter is very pleased to partner with LiangYi museum to welcome our members for a very happy evening.
'Majestic: Royal and Imperial Objects from the Liang Yi Collection' is the first exhibition of its kind in Hong Kong to explore the history of royal and noble patronage in the East and West. Drawing on 190 remarkable artefacts from the Museum's permanent collection, the exhibition celebrates the apex of craftsmanship, encouraged and guided by imperial cultural ambition. The Museum now houses close to 7,000 objects in its various collections including classical Chinese furniture; vanities; historic silver; and Japanese works of art. Many of the pieces in the collection were commissioned by the ruling class, or made by celebrated craftsmen granted warrants from the royal courts of Austria, China, Denmark, England, France and Japan. Featuring a selection of traditional decorative objects from both East and West, this exhibition takes an international approach to the subject, and can be classified into two broad categories: those with direct royal provenance; and objects created in the taste of royalty.
We look very much forward to spend a great cocktail evening together and feel free to bring your guests.
Please refer to the below details to sign up:
Price: $250 (Members) $350 (plus-ones and guests)
Location: Liang Yi Museum, 181-199 Hollywood Rd, Sheung Wan

Please RSVP on or before 28 Feb 2023.
Payment methods:
VISA, MasterCard, American Express, UnionPay bank cards.


A receipt will be sent to your registered email address upon payment.
If you wish to pay by Bank transfer, Cheque and Direct deposits, please contact us at support@leslumieresdeparishk.com (email) or WhatsApp 98648410.